Admiring from afar is one thing, but starting a relationship with her crush may prove more sinister for her than Lydia realizes. What is she supposed to do when he smiles that way at her?
It's a new semester with a new class schedule and Lydia finds that her crush is in one of her classes. Dealing with her mother's neurosis after her divorce gave Lydia a thick skin, but that might not be enough when she encounters Derek's unbalanced behavior. After a confusing first encounter they spend the next couple weeks going back and forth before her life as she knows it takes a drastic turn.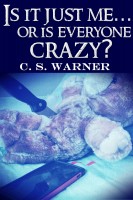 C.S. Warner grew up with a love of horror and supernatural films – as evident in her writing. Because of that passion, she has worked on ghost tours and as a paranormal investigator to give her stories life. Using her experience as a foundation for her writing, C.S. Warner creates worlds for her readers to get lost in.
A different read than my usual, but once I have a book to read I do try to complete it. "Is everyone crazy, or is it just me?" Is about a girl, Lydia, who lives with her mother that suffer a neurotic breakdown after the divorce; a friendship between two girls, and about Lydia's all time crush finally speaking with her. The story follows Lydia as she navigates high school, her family life, her love life and has a point of view rarely ever seen. With a crazy mother, an elusive crush, you want to finish the book to see how it ends. @Stuffsbooks

Enjoy a preview of the first chapter:
Chapter One
The First Meeting
Each stride bounced off the waxed floor as Lydia made her way through the crowded halls of her high school. It was her first day back for the new semester; back to the monotony of swimming against her peers toward the cafeteria that, once again, was at the other end of campus from her last class.
She pushed through the double doors that led out to breezeway and took a deep breath. The straps of her backpack weighed heavy on her shoulders with the addition of new books while her stomach roared in frustration at her for going so long without nourishment. She continued between the brick buildings, sweat beginning to drip from her forehead, until the cafeteria came into sight. Other students passed her by, already recharged and marching on to another tedious lecture. Her posture suffered as she trudged on.
During the last semester when Lydia made the same journey to the lunchroom she had developed a routine, one in which she looked forward to each day. She desperately hoped it would continue and felt the butterflies flutter through her body as she looked at each passerby's face for him; wishing out loud he still had the same lunch hour -just before hers. Tall and slender with short brown hair, tight pants and t-shirts; she didn't know his name or even his grade, but each time they crossed paths their eyes would lock and he'd smile that heart-melting grin at her.
Whew, Lydia thought as he came into view. She smiled and held her breath; he smiled back; she blushed her usual red and shyly turned away, beaming as she entered the cafeteria.
All through lunch, though surrounded by friends, Lydia glazed over letting her mind wander to her new classes, television shows from the previous night, and ultimately back to her mystery man. Her best friend since kindergarten, Mariah, kept the table entertained and it seemed no one noticed Lydia wasn't even really there.
Mariah was a blogger, mostly about fashion and 'Goth Couture', or whatever she called it. She had short spiked black hair, in contrast to Lydia's long brown, wore skirts and boots and button down blouses while Lydia stayed in shorts and t-shirts with tennis shoes. Lydia wasn't unattractive or plain, but she preferred to stay comfortable.
The bell echoed over the already loud commotion signaling that lunch was finished. Lydia bustled along with the others to her next class, AP Biology. The AP hall appeared deserted as she walked in-between the rows of lockers and doors until she found her room, #406. The wooden door was heavy as she pushed it in. To her right was the teacher's desk centered in front of five rows of student desks facing it.
Like it so far? Buy it here @ smashwords.com